Traffic Down 80% on Bali Mandara Toll Road
Bali's sole toll road – The Tol Bali Mandara – experienced a downturn in traffic of 80% in April 2020.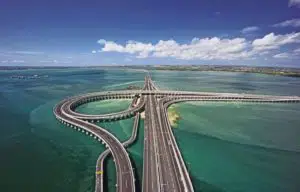 While in more normal circumstances, around 50,000 vehicles will travel each day on the toll road connecting Sanur – Bali's Airport – Nusa Dua, since the massive downturn in tourism due to the COVID-19 Pandemic the number of vehicles passing over the roadway is down to only 10,000 per day.
Quoted by NusaBali, the spokesperson for Jasa Marga Bali Tol, I Putu Gandi Ginarta, explained that the arrival of the COVID-19 Pandemic caused an 80% decrease in traffic by all types of vehicles using the toll road.
With Bali's airport at a standstill and the many thousands of hotels stretched along the Nusa Dua Pennisula mostly closed, the primary stimuli for traffic up and down the once busy toll road no longer exists.
A Mathematical Muddle
Ginarta, on Tuesday, 28 April 2020, spoke to NusaBali and inadvertently revealed a lack of basic math skills when he said: "For the past month there has been a decline of 40% (sic) from the months preceding the Pandemic, with only around 10,000 vehicles now using the toll road each day." Possibly compounding this mathematical error, Ginarta said that traffic by four-wheeled vehicles is down 45% (sic? – perhaps 90%) and by two-wheeled motorcycles down 55% (sic).
With Jasa Marga Toll reporting an average drop from 50,000 vehicles to 10,000 vehicles per day – this would represent an 80% decline in traffic.
Citing the decline in business in all sectors of Bali's economy, the toll operator has rejected the suggestion to lower toll fares as a means of stimulating more vehicular traffic. Moreover, any tariff reduction at this time would be inconsistent with Jasa Marga Bali Tol's public support of the Government's policy for people to "stay at home" during the COVID-19 Pandemic.
"At this time, we are supporting the 'Stay at Home' movement. All those who use the toll road are urged to help break the chain of contagion for the virus. Although there is a drastic decline in toll road usage, the toll remains operational while following and supporting all government recommendations," said Gandi Ginarta.
Jasa Marga Toll has also implemented safety measures against COVID-19 for all its employees. Toll workers have all been supplied gloves, masks, and access to hand sanitizers. Regular spraying of booths and other areas with disinfectives is also underway. With the beginning of each new shift at the Toll Road, employees have their body temperatures scanned and are required to wash their hands repeatedly throughout the day.
Source : balidiscovery.com