Indonesia's Golden Visa: Benefits and How to Apply
Published on November 8, 2023
Picture yourself amidst the lush landscapes, cultural vibrancy, and endless adventures of Indonesia—a land of tropical wonders. Now, what if we told you that you could not only visit but also live your dream life in this Southeast Asian gem? Welcome to Indonesia's Golden Visa, the golden ticket for savvy expats seeking a tropical paradise.
The Golden Visa Phenomenon
Indonesia is joining the ranks of countries offering a Golden Visa program for property investors and high-net-worth individuals. This initiative not only streamlines the process of obtaining residency but also opens the door to a world of opportunities for those who wish to call Indonesia home. Following in the footsteps of nations like the United States, Portugal, the United Arab Emirates, and more, Indonesia's Golden Visa is set to become a game-changer in the world of expat living.
So, what exactly is Indonesia's Golden Visa, and why is it creating such a buzz? In essence, it's a pathway to long-term residency that grants expatriates the privilege of staying in Indonesia for either five or ten years, contingent on specific investments in the country.
Who Can Benefit from It?
The Golden Visa targets a broad spectrum of expats:
Individual Investors: If you're an individual looking to secure a sunny slice of Indonesian paradise, this is your chance. You can opt for either a five-year or ten-year visa, depending on your investment choice.

Entrepreneurs: Dream of establishing a business in Indonesia? The Golden Visa offers you the golden opportunity to turn your entrepreneurial dreams into reality.

Corporate Leaders: Already part of an Indonesian corporation as a director or commissioner? The Golden Visa welcomes you to embrace long-term residency in this tropical haven.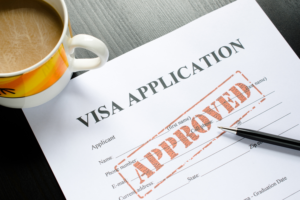 Indonesia's Golden Visa Requirements
For Individual Investors:
Five-year visa: Invest at least IDR 5.3 billion ($344,500) in public company shares, bank accounts, or government bonds.

Ten-year visa: Secure an investment of at least IDR 10.6 billion ($689,000) in the same options
For Entrepreneurs:
Five-year visa: Commit to an investment of at least IDR 38 billion ($2.47 million).

Ten-year visa: Amp it up to a minimum of IDR 76 billion ($4.94 million).
For Corporate Leaders:
Five-year visa: Become a shareholder of an Indonesian company with an investment of at least IDR 380 billion ($24.7 million).

Ten-year visa: Raise the stakes with an investment of at least IDR 760 billion ($49.4 million).
In addition to these financial requirements, you'll need a valid passport with a minimum of 36 months of validity at the time of application. Don't forget to provide a recent, passport-sized, color photograph with a white background.
What are the Benefits?
The Golden Visa brings a bouquet of advantages:
Extended Stay: Enjoy up to a decade of uninterrupted living in Indonesia. No more visa renewals or fretting about short stays.

Travel Freedom: Enter and exit Indonesia at your leisure, without the need for frequent visa applications.

Tax Benefits: Your Golden Visa can simplify the path to becoming an Indonesian tax resident, potentially offering you substantial tax advantages.

How to Embark on Your Golden Journey
As of now, you can't yet apply for Indonesia's Golden Visa, but the Indonesian government aims to roll out the program by the end of 2023. Until then, other visas like the Second Home Visa ITAS or the Investor KITAS can serve as your gateway to long-term Indonesian living. For those opting for the Investor KITAS, establishing a PT PMA in Indonesia is the key to unlocking your temporary residence.
Indonesia's Golden Visa is more than just a visa; it's a passport to paradise. So, stay tuned, and when the time comes, seize this golden opportunity to make Indonesia your dream home. Your journey to a lifetime of adventure, culture, and tropical wonders awaits!