Daughters of the Earth – Celebrating International Women's Day – Tuesday, March 10, 2020 at The Apurva Kempinski –Bali
Published on February 17, 2020
Bali WISE will be holding a lavish 4-course dinner at the 5-star Apurva Kempinski, Bali on Tuesday, March 10, 2020, to recognize outstanding women in the community as part of the global celebration of International Woman's Day.
Guests of Honor and serving as prize presenters will be Ms. Happy Selma and Ms. Anthea Griffin. Happy Selma is a well-known actress, model, and author who is a past recipient of a "Best Supporting Actress Award" at the Citra-Indonesian Film Awards. Anthea Griffin is a senior career officer with the Australian Department of Foreign Affairs and Trade (DFAT) who currently serves as the Consul-General of Australia in Bali.
On the special evening at The Apurva Kempinski, Bali WISE will recognize 15 outstanding women for their outstanding contributions across three categories: Inspiring Change Maker of the Year, Business Women of the Year, and Environmental Conservation and Stewardship.
Bali WISE is a non-profit foundation in Bali that seeks to empower local women by reducing poverty by providing educational and training opportunities. Vocational training instills basic skills needed in order that impoverished women can make informed life choices that will result in continuing income streams from environmentally sustainable sources.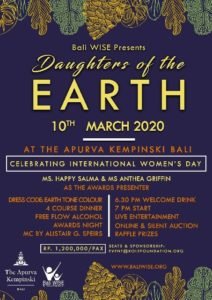 BaliWISE's vision is that through providing better educational opportunities that empower, women will be able to break and remedy the cycle of generational poverty.
To address this problem, BaliWISE seeks to educate and train women from deprived areas of Bali, equipping them with the skills they will need to make informed life choices. This includes vocational skills that can help lay the groundwork to earn a sustainable income from sources that will minimize environmental harm and promote ecological restoration.
Tickets for the evening cost Rp. 1.2 million to include a four-course dinner with free-flow beverages, live entertainment, and a silent & online auction.
By attending this event, you help finance skills education for our students and set them on a path towards a brighter future.
Source : Bali Discovery