Buying or Building a Villa in Bali: A Guide to Your Dream Property
Published on June 6, 2023
Bali's natural beauty, vibrant culture, and serene atmosphere have made it a sought-after destination for property investments. Whether you dream of owning a villa in paradise for your personal use or as a lucrative investment opportunity, Bali offers a range of options. In this article, we will explore the advantages and considerations of buying or building a villa in Bali, helping you make an informed decision and navigate the process smoothly.
Determine Your Objectives
Before proceeding, clarify your objectives for owning a villa in Bali. Are you looking for a peaceful retreat, a rental income stream, or a combination of both? Understanding your goals will shape your decision-making process and guide you toward the most suitable option.
Buying a Villa
Location
Bali offers diverse locations with unique features and appeal. Consider factors such as proximity to beaches, amenities, infrastructure, and lifestyle preferences. Popular areas include Seminyak, Ubud, Canggu, and Jimbaran.
Research and Due Diligence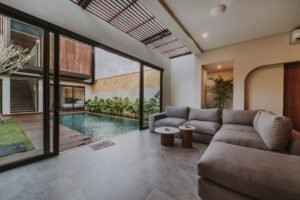 Thoroughly research the property market and enlist the help of a reputable local real estate agent. Conduct due diligence to ensure the property has all the necessary permits, clear land titles, and is free from legal encumbrances.
Budget Considerations
Determine your budget for purchasing a villa, including the purchase price, taxes, legal fees, and any renovation or furnishing costs. Ensure you have a realistic understanding of the market prices in your desired location.
Property Management
If you plan to rent out your villa, consider engaging a reliable property management company to handle bookings, maintenance, and guest services. Alternatively, you can manage the property yourself if you have the time and resources.
Building a Villa
Location and Land Acquisition
Identify suitable land in your desired location. Work with a reputable real estate agent to find available plots that meet your criteria. Engage a professional land surveyor to ensure the land is suitable for construction.
Architectural Design and Permits
Collaborate with an experienced architect to design a villa that meets your requirements and complies with local regulations. Obtain the necessary permits, such as the building permit (IMB), environmental impact assessment, and Pondok Wisata license if you plan to rent out the villa.
Construction Process
Select a reliable contractor who understands local construction practices and quality standards. Regularly communicate with the contractor and supervise the construction progress to ensure your vision is realized.
Budgeting and Timelines
Develop a detailed budget that includes construction costs, architectural fees, permits, materials, and contingencies. Be prepared for potential delays due to weather conditions or unforeseen circumstances.
Legal and Financial Considerations
Legal Advice
Engage a reputable lawyer experienced in Bali's real estate laws to guide you through the legal process, including title searches, contracts, and ownership structure.

Financing Options
Explore financing options if needed. Local banks, international lenders, or private investors may offer financing solutions tailored to your needs. Conduct thorough research and evaluate the terms and conditions before making a decision.
Taxes and Fees
Understand the tax implications of owning a villa in Bali, including property taxes, income taxes from rentals, and any associated fees or duties.
Buying or building a villa in Bali presents an exciting opportunity to own a slice of paradise. Consider your objectives, conduct thorough research, and enlist the help of professionals to guide you through the process. Whether you choose to buy an existing villa or build one from scratch, Bali's enchanting landscapes and thriving property market offer endless possibilities for creating your dream property in this tropical haven.