Bali Land Buying 101: Expert Tips for a Smooth Investment Journey
Published on May 23, 2023
Buying land in Bali can be an exhilarating and fulfilling experience, but it's important to be aware of the challenges and risks involved. To help you make informed decisions and avoid costly mistakes, here are five common pitfalls to keep in mind when purchasing land in Bali.
Understand the Applicable Tax Rules
Familiarize yourself with the tax rules associated with Bali real estate transactions. For freehold land purchases, a land and building acquisition tax of 5% of the purchase price applies. It's essential to be aware of these tax obligations and other relevant regulations. Detailed information on Bali property regulations and taxes can be found on our website.
Verify Road Access to the Property
Before making a decision, it's crucial to confirm the status of road access to the property. Some properties may have fully or partially private road access. Be cautious of properties priced significantly lower than comparable ones, as they may lack proper road access. This can lead to additional expenses, such as purchasing a portion of a neighboring property for access. Ensure you have sufficient space to build your own road or consider arranging shared access with a neighbor. Consulting a local real estate agent can provide guidance on potential road access issues and help secure proper access to your property.
Consider Zoning Restrictions
All land in Bali is subject to zoning regulations that dictate the allowable activities and development on the property. Common zoning categories include residential (Pemukiman), touristic (Pariwisata), governmental (Pemerintah), and agricultural (Pertanian or green zone). It's important to note that building permits are not issued for land located in green zones. Zoning classifications can change over time, so it's advisable to contact the local government office for up-to-date information. Seek the guidance of experts, such as our legal advisors, to ensure your planned activities align with the zoning regulations.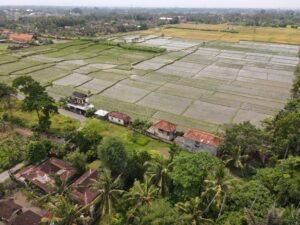 Choose a Reliable Real Estate Partner
Having a trustworthy and experienced real estate partner is essential when buying land in Bali. They should have in-depth knowledge of the local market trends and be capable of conducting thorough research on your behalf. A good real estate partner will also negotiate on your behalf and leverage their location-specific expertise to secure the best possible deal.
Avoiding these common mistakes will help you navigate the process of purchasing land in Bali with confidence. We are committed to providing expert guidance and assistance to ensure your investment journey is successful and rewarding. Contact us today to learn more and embark on your land purchase in Bali.