AMCHAM Golf Weekend in Bali November 26-29
Published on October 5, 2020
Although the precautions on mass gatherings prevent the American Chamber of Commerce in Indonesia (AMCHAM Indonesia) from holding its traditional Thanksgiving Day Golf Tournament, AMCHAM Member in Bali, Jack Daniels, has organized a smaller "Clean-Healthy-Secure (CHS) Golf Weekend" November 26-29, 2020 for those eager for a relaxing weekend of golf with fellow AMCHAM members
2-Rounds of 18-hole Gold on the Award-Winning Bali National Golf Club
Keeping Golf Safe in the "New Normal"
Specifically designed for a limited group of golfers and their accompanying golfing or non-golfing partners, every possible precaution will be in operation to keep participants safe and healthy, including:
– Private vehicle transfers between airport and hotel (round trip) and all local transfers for golf and meal programs.
– A "Goody Bag" waiting in the arrival transfer vehicle, including face masks, face shields, and hand sanitizers. Temperature checks will be performed regularly throughout the course of the weekend. Golfers will also be expected to drive their golf buggy carts with caddies in tow, keep their own scorecard, and clubs will be sanitized before and after play.- Seating during lunch will be available on an open-air patio or in physical-distanced configurations inside the clubhouse. The use of locker room and pro-shop will have "maximum capacity" rules in operation.
– Physical distancing and stringent health protocols will also at a Traditional Thanksgiving +1 Dinner Program on Friday, 27 November at The Gourmet Garage and the Farewell Steak Dinner on 28 November at the Amarterra Resort in Nusa Dua.
– Accommodation in One Bedroom Private Pool Villa at the luxurious Amarterra Resort will be in sanitized rooms at a property that has earned CHS Certification for operations in the "New Era" from the Provincial Government of Bali.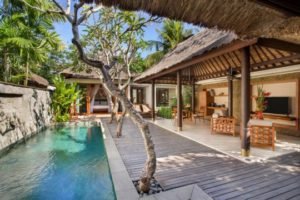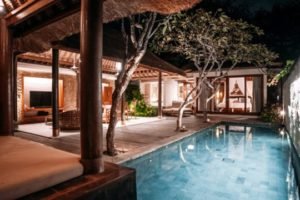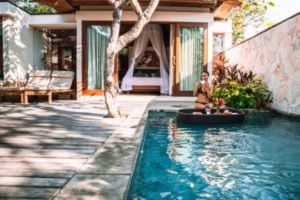 AMCHAM Golf Weekend
Includes Three-Nights Accommodation in a CHSE Certified
Amarterra One Bedroom Private Pool Villa
What's included in the 4 Day – 3 Night Program?
Thursday, 26 November 2020
– Meet and greet services at Bali's Airport and Transfer to Hotel
– Accommodation in a One-Bedroom Private Pool at the 5-star Amarterra Villas in Nusa Dua. The Amarterra Villas are members of Accor M Gallery Collection.
– Evening at leisure in Nusa Dua.
Friday, 27 November 2020
– Breakfast at Hotel.
– Transfer for early morning tee-off time at nearby Bali National Golf Club
– 18 holes of golf, including green fees, caddy, and golf cart. (Limited number of golf club sets available locally and should be reserved at booking.)
– Lunch included at the Bali National Club House overlooking the 18th hole. Drinks are not included.
– Transfer back to the hotel
– Evening Transfer to and from an exclusive "Thanksgiving Plus 1" dinner at The Gourmet Garage. Traditional Thanksgiving feast of Roast Turkey, stuffing dressing, cranberry sauce, corn-on-the-cob, roasted vegetables, gravy, pumpkin pie served with cookie & cream gelato. Free flow American Wine or beer during dinner before transfer back for another restful night in your one-bedroom private pool villa at the Amarterra Villa.
Saturday 28 November 2020
– Breakfast at Hotel.
– Transfer to and from Bali National Golf Golf Club for 18-holes of Golf.
– Lunch at Bali National Golf Club House. Drinks are not included.
– Farewell gathering Steak Dinner at Amarterra Villas. Bar purchases are not included. Presentation of exciting lucky draw prizes.
Final evening stay in your luxurious One Bedroom Villa.
Sunday, 29 November 2020
– Breakfast at Hotel
– Late Check-out until 4:00 pm. Special offer for those wishing to extend their stay available.
– Private Transfer for your departure flight
What's Not Included?
– Flights to and from Bali.
– Tips to Caddy.
– Drinks not specified in the program.
– Lunches on golf day and optional excursions by non-golfing accompanying partners.
Cost of Participation
Single Occupancy by a Golfer Rp. 9.2 Million Net
Shared Occupancy of a Villa by Two Golfers Rp. 6.6 Million Net Per Person
Shared Occupancy by Two with One Non-Golfer Rp. 5.3 Million Net Per Person
A limited number of places are available for interested Americans or those with an affinity for the American community living in Bali, who do not require hotel accommodation. Please note that Island residents joining the weekend will be required to present a current "negative" Rapid Test or Swab Test.
Third-person (accompanying child) non-golfer sharing a room with parent rates available on request.
Bookings and More Information
Email info@balidiscovery.com
WhatsApp at +62-87861132739
Source by balidiscovery.com