A Peek to the Bali's Tropical Luxury in Canggu
Published on October 6, 2023
Been featured in numerous architectural magazines, this architectural masterpiece has come as one of the current top investment properties in Bali. It wouldn't be so surprising if you think you've come across seeing this property, just somewhere else…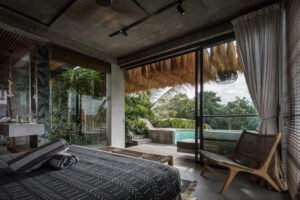 Imagine waking up to the gentle rustling of palm trees from the luxury tropical living, where every day feels like a dream vacation. If you're looking for a wise investment opportunity, look no further. This luxury tropical property, recently featured in prestigious architectural magazines, is currently one of the top investment properties with a high rental yield.
Taking a stroll inside, you would instantly feel how this inspiring property is offering nothing but the tropical luxury living at its best designed by Biombo Architects, one of the best architect firms in Bali. Coming with amazing full panoramic ricefields views and the unbeatable view of Batukaru mountain, this villa is made as a familial dwelling, creating space constructed on 700 m2 land comprises an open plan living area, 5 ensuite bedrooms + 3 suites, a guest toilet, a multifunction room, a foyer, a storage room, a basement toilet, a laundry, a dedicated massage room equipped with air conditioning system, and an outstanding outdoor area.
This magnificent property is currently on the market and listed on our luxury listing, offering a remarkable opportunity for those seeking a slice of paradise. Not only is it in high demand for rentals, but it also offers you the opportunity to own a second home that's truly special while also enjoying impressive returns on your investment.
As a reliable partner in your quest, we extend an invitation to delve deeper into the property's particulars and take advantage of the opportunity to claim this extraordinary real estate as your own. Don't let the opportunity to enjoy the ultimate in tropical luxury slip away; reach out now and begin your journey toward acquiring this extraordinary tropical gem!