2019 Ubud Writers & Readers Festival: 8 great events to look out for this year
Published on September 27, 2019
It's almost time to welcome the region's biggest festival of words — next month, Bali's beloved little jungle town of Ubud will play host to some of the world's most notable and thought-provoking authors, journalists, artists and activists for five days of event programming during late October.
This year, the 16th Ubud Writers & Readers Festival (UWRF) is presenting some kickass speakers and much-needed topical discussions on the state of arts and culture in today's world — under the Hindu principle of "Karma" as its theme, this year's festival's program will explore the idea of how the decisions we make today are shaping our shared future.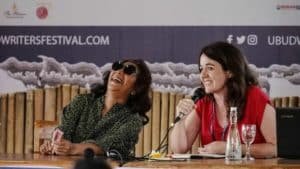 According to UWRF Founder & Director Janet DeNeefe, the speakers who were invited (and being celebrated at the 16th year of the festival) are individuals "who are deeply aware of the consequences of their actions."
"At a time when the consequences of climate change are impossible to ignore, and world leaders continue to evade responsibility, we'll ask what Karma looks like in 2019, and consider the tensions that emerge when we don't look it squarely in the face," DeNeefe said in a statement.
Diversity in representation is also key for the festival this year, since "… there's something in the air right now – a crackling hunger for diverse voices from lesser-known regions, for works in translations by people of color, for stories that open our eyes to worlds completely unlike our own, said DeNeefe.
UWRF's event programs vary widely — beyond panel discussions and author talks, participants can also take part in book launches, workshops, film screenings and art performances throughout the festival.
Running from Oct. 23 to 27, UWRF will feature a number of Indonesia's most prominent names in the arts and literary world, including award-winning author and journalist Laksmi Pamuntjak, film directors Garin Nugroho and Richard Oh, veteran journalists Leila S. Chudori and Maria Hartiningsih, as well as author, artist and gender activist Eliza Vitri Handayani.
Organizers have also lined up appearances by Lindy West, a contributing opinion writer for The New York Times, and who is also known as a feminist firebrand, plus Chinese-American author Jenny Zhang, Iranian-American writer and religious scholar Reza Aslan, as well as Indonesia's very own human rights advocate Andreas Harsono.
There are heaps of interesting events in the schedule this year, but as a primer/cheat sheet for those of you who want it, here's the Coconuts Bali rundown of the very best and brightest happenings in UWRF's upcoming program next month.
Source : Coconuts Bali